HARDWARE REQUIREMENTS
Windows 8.1
A 1 GHz processor or faster 32-bit (x86) or 64-bit (x64) processor.
1 GB of RAM (32-bit) or 2 GB RAM (64-bit)
16 GB available hard disk space (32-bit) or 20 GB (64-bit)
DirectX 9 graphics device with WDDM 1.0 or higher driver
Windows 10
A 1 GHz processor or faster 32-bit (x86) or 64-bit (x64) processor.
1 GB of RAM (32-bit) or 2 GB RAM (64-bit)
16 GB available hard disk space (32-bit) or 20 GB (64-bit)
DirectX 9 graphics device with WDDM 1.0 or higher driver
WHERE CAN I FIND INFORMATION ABOUT WINDOWS AND MY COMPUTER HARDWARE?
To see this information on all versions of Windows you have to:
Open Start then Control Panel and System.
You will see "basic information about your computer" screen.
Hint:
– If you can't find the control panel on the list use the search bar or Cortana.
– If you can't find System icon in Control Panel change the view to Small or Large Icons or click System and Security and then System.
You can also refer to this article: Check Computer Specifications
HOW DO I LOOK FOR DRIVERS?
We always recommend downloading at least your network card drivers since they might be missing after the installation or upgrade. The best thing to do is to download all of your computers drivers so you can easily replace them after installation or upgrade.
If you have a laptop, looking for drivers will be as easy as opening your browser and searching your computer model number with added word "drivers". The first two results will probably be your computers manufacturer website support page of your particular laptop model, in which you can find proper drivers for your laptop.
HOW DO I FIND MY LAPTOP'S MODEL NUMBER?
1. There should be a sticker on your laptop with manufacturer and model number information (probably on the bottom of your laptop)
2. You can run DirectX Diagnostic Tool in your Windows and find your exact model number in there
In order to do that you need to open your START menu and in the search box type in "dxdiag" (without the quotation marks) and hit enter.
Or you can go to START menu and click on "Run…" and type "dxdiag" there.
(here is an example of the dxdiag window on a Dell computer)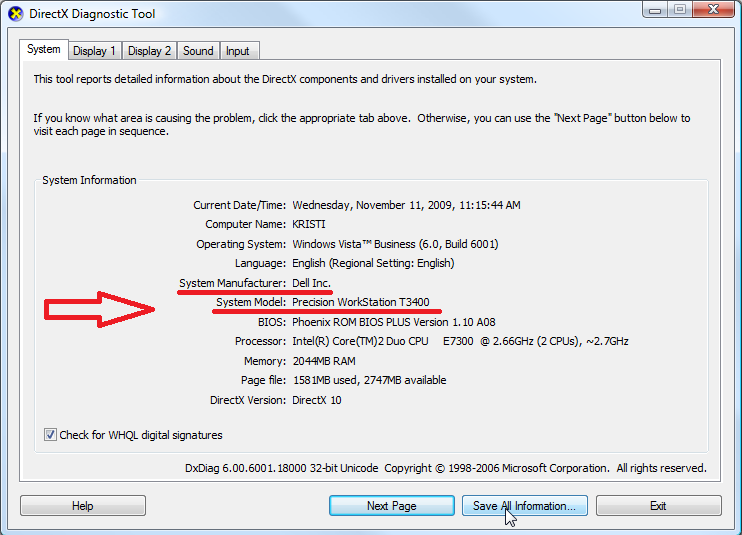 As you can see under "System Manufacturer" and "System Model" there is information that you need. If you have a DESKTOP it may show a model of it but if it is not manufactured but assembled you will only see your Motherboard manufacturer and model number.